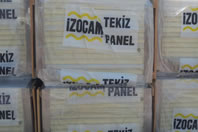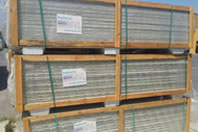 Sandwich Panel
Izocam Tekiz Mineral Wool Insulated Panels are preferred for the buildings which require high fire safety or for the places where flammable and combustible materials are stored. They are produced by continuous process. By the help of class A noncombustible rated mineral wool layer that is used as metal outer shell and insulation sealant, a fire resistant composite system is obtained. In addition to fire safety, the panels also provide thermal and sound insulation and they don't consist of any environmentally hazardous substances.

Mineral wool is sliced in fully automated production system so that its fibers become in a perpendicular position to the panel surface. By this process, panel's load capacity increases. Fibres are sliced according to fill the corrugations and installed in the panels automatically with staggered joints.

Polyurethane insulated panels are composite roof and facade coverings with polyurethane rigid foam sealant. Two components named polyol and isocyanate are injected between two formed surfaces. Chemical reaction between polyol and isocyanate results in the formation of polyurethane. The top and bottom surface used in polyurethane panels can be galvanized painted sheet, aluminium, craft paper or for the top surface only PVC or TPO membrane depending on the product type.

Metal rolls go through the continuous panel production line. They are being formed in roll-formers and compose the top and bottom surfaces. Based on the order, Class B2 or B3 polyurethane is injected homogenously between two surfaces by special spray system. Later it is cured at belt press. After curing, chemical reaction ends, adhering to the metal forming the composite parel. Provided that it has minimum 3 m length, it is cut automatically according to the desired length by the help of flying saw which functions synchronously with the continous production line. Then they are packed and become ready to be shipped.

They have extensive area of use like factories, industrial buildings, military buildings, public buildings, prefabricated buildings, sports facilities, swimming pools, construction site buildings, silos, hypermarkets, shopping malls, market halls and houses. It offers an insulated, aesthetic outer shell for the buildings.
CORRUGATED SHEETS
Polyurethane thermal insulation material has a good value ( _ = 0,023 W/mK ) in terms of thermal conductivity. By using different insulation thicknesses depending on the climate situation of the region, required climate conditions can be attained efficiently.
· Since polyurethane is activated with pentane gas at Izocam Tekiz Panel production line, they are environmentally friendly products.
· The panels have high load bearing capacity by means of corrugated metal surfaces. Since the panels are lightweight, they provide savings on the load bearing system.
· They don't get affected by temperature differences.
· Fast installation saves time and labour.
· With the help of its metal surface, it doesn't allow any water leakage. It can be used securely.
· They don't produce or hold any bacteria.
· They don't produce dust.
· They are long-lasting.
Available in the Middle East (Dubai, Abu Dhabi, Lebanon, KSA, Saudi, Bahrain, Etc.) and North Africa through MVL Group and MVl Supply.
Product Documents
Sandwich Panel.pdf